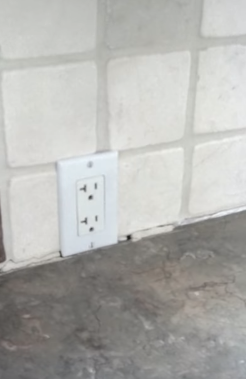 May
14
How to Fix Cracked Grout with Grout Shield
Countertops usually settle, which often times means, you can find broken or missing grout in between the backsplash and the tile – this looks awful. It looks like your backsplash is old and broken. How can you repair this without retiling your entire backsplash? It is possible to do with Grout Shield products.
Here's what you do:
Take a paper towel and measure it to the size of the crack.
Place it behind the crack. Push it in.
Get some grout to fill in the crack.
Mix in Grout Shield color sealer in the grout to match the color of the other grout.
Get a rubber trowel and bucket of water with a big sponge.
Spread the grout on the trowel and then push it in to the missing grout areas.
You can then use your finger to make a nice trim.
Take sponge to wipe off excess.
Check our video below to see how easy it is to repair grout by mixing in Grout Shield's color sealer with grout to fix broken or missing grout lines.
This process also works for broken and missing grout in bathrooms.
Our color grout sealers come in 8 ounces (covers 250 square feet), 16 ounces (covers 500 square feet), and one gallon (covers 4,000 to 6,000 square feet). We also have a 2-ounce sample size that covers up to 10 square feet.
For more information on grout color sealers  or to purchase Grout Shield products, click our grout sealers   page, or call toll free at 1-800-631-0716.