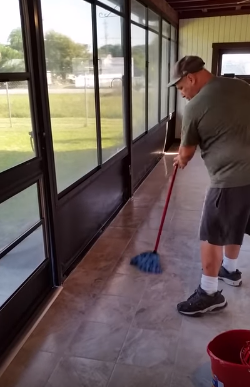 May
24
Make Your Slate or Ceramic Floor Look New Again with Grout Cleaner and Sealer
Have a newly tiled floor with residue on it?  You need to clean it and then seal it!
If your tile and grout are left dirty by a tile installer, you can clean it with Grout Shield's grout and tile cleaner.  This grout cleaner is also great if your grout and tile are just looking drab and dirty. Our cleaner works weather your tile is new or 20 years old. Our cleaners our ph-balanced and safe on grout.
Once your tile and grout are clean and dry, you want to use Grout Shield's enhancer grout sealer. The enhancer grout sealer makes existing ceramic, slate, or Mexican tile floor look vibrant and new again. This sealer is available in 1 pint or gallon bottles.
You want to take a microfiber mop and make it damn, then dip it into a bucket filled with the enhancer sealer. Then, just mop back and forth across the floor with the sealer on the mop. It is very easy to use. You're sealing the floor and enhancing it. Once the floor is done, you will see a shine on the floor.
Grout Shield's enhancer sealer protects and enhances your tile and grout from future stains by preventing the grout from absorbing dirt, liquid, mold, and more. You grout will be shiny and new looking! Grout Shield's enhancer sealers can be used to seal new tile and grout installations, as well as all-natural stones and outside concrete.
Grout Shield grout sealers are simple to use and apply. You can learn how to apply it by watching a video. Click the video below to learn how to use our grout enhancer sealer on your slate, ceramic, or Mexican tile floor.
Our enhancer sealer come in 16 ounces (covers 500 square feet), and one gallon (covers 4,000 to 6,000 square feet).
For more information on Grout Shield's grout products or to purchase Grout Shield products, click our grout sealers page, or call toll free at 1-800-631-0716.