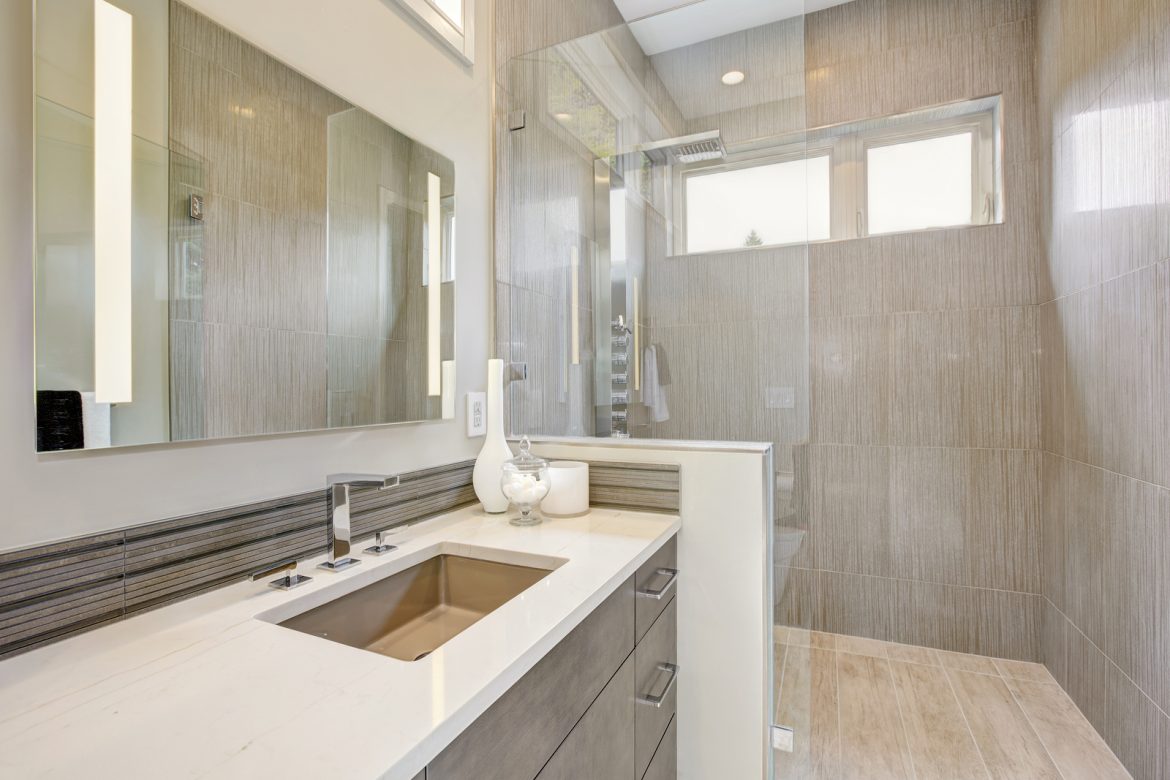 Sep
11
How to Renovate Your Bathroom with Grout Shield
Does your bathroom look dated? Or, does it look like you shouldn't even use it? Need a change? A bathroom renovation is expensive. It can easily go over $10,000 if you have a decent to big-sized bathroom, especially if you're changing tile and plumbing. Most people can't come up with these funds and if they can, it usually isn't in a timely manner. You could take out a loan, but a lot of people don't want to deal with paying money back for months and years to come. So, what can you do?
You can do your own home bathroom renovation. From paint to a new shower curtain, you can completely redo your bathroom in a true DIY on the cheap. Now, if you have a tile floor or shower that is dirty or darkened, don't cover it up! It can be restored!
Your tile floor or shower likely looks dirty and old because of dirty grout. Grout is porous and it absorbs everything it touches if not sealed. Years of soap, dirt, mold, and mildew have likely gotten into your grout lines. You also cannot clean grout properly without the right grout cleaner. Many household cleaners are not strong enough to lift deep stains from grout. Many of these home cleaners are actually harsh on the grout and can cause it to crack and break over time.
Here are some Grout Shield products that can help you renovate your bathroom:
The Grout Shield Grout & Tile Deep Cleaner cleans and lifts deep stains out of the grout's pores. If your grout hasn't been properly cleaned in a while, use this product!  To use this product, mix 1 ounce of the cleaner with 8 ounces of warm water. Then, brush the cleaner into the grout. Leave the mixture to sit into the grout lines for a few minutes. Lastly, wipe away the cleaner with a sponge.
Grout Shield Color Sealer – This product isn't just a grout sealer, it allows you to match or change the color of the existing kitchen grout without having to remove any of the grout. You can also mix it in with grout to re-grout your tile if needed. This will change the color of the grout, seal, and protect it. With this product, we can match any color possible.
Grout Shield's Clear Seal – This sealer works just like the color sealer, except it is clear and doesn't change the color of your grout. This is good to use if you like the color of your grout and it's bright and new-looking.
Grout Shield Restoration Kit and Packages – A kit or package is the best way to fully restore a kitchen floor or backsplash. Grout Shield offers seven different package kits to help restore the look of grout. Each kit's contents vary depending of the size of the job that needs to be done. The kits offer everything you need for a full restoration: cleaner, sealant, colors, chamois, brushes, and instructions.

A clean and bright floor or shower can make all the difference in a bathroom. Your room will look new and brighter! Like you retiled the room!
You don't have to retile or re-grout your bathroom to do a renovation. A new grout color might even be enough to make your bathroom appear brand new! Don't tear up the grout and tile. A restoration is possible with Grout Shield products. Remember, after using the grout cleaner, use the grout sealer to protect your grout from future stains and mold and mildew growth.
Not sure what to buy? Our team at Grout Shield can help you determine what products are best for your needs, preferences, and the current condition of your bathroom grout.
For more information on Grout Shield grout products in your bathroom, call toll free at 1-800-631-0716.Bottom of Form.